Register
Spring 2018: EVOLUTION Team Tryouts Basketball · Any
Individual Fees

Regular

25.0
PRING SEASON TOURNAMENT TEAM TRYOUTS - Pre-Register Now!
Spring Season runs from Early March thru early June | Some teams REQUIRE Summer Committment thru July
All Players MUST ATTEND at Least 1 Tryout to be eligible for a team. 2+ tryouts preferred
If you cannot attend Tryouts, please find a time to get a private evaluation completed as soon as possible by contacting us at family@evohoops.com.
Jan 6, Jan 13, Jan 20 - Grade 3-9 | Jan 20, Feb 10, Mar 3 - Grade 9-12
ATTENTION PARENTS - CHANGES FOR SPRING TRYOUTS THIS WEEKEND - JAN 13 & 14

NEW Days & Times at Woburn Boys & Girls Club:

Saturday, Jan 13 ~
Girls Grade 7-9... 5pm-6pm***
Boys & Girls Grade 3-6... 6pm-7pm

Sunday, Jan 14 ~

Boys Grade 7-9... 1pm-2pm***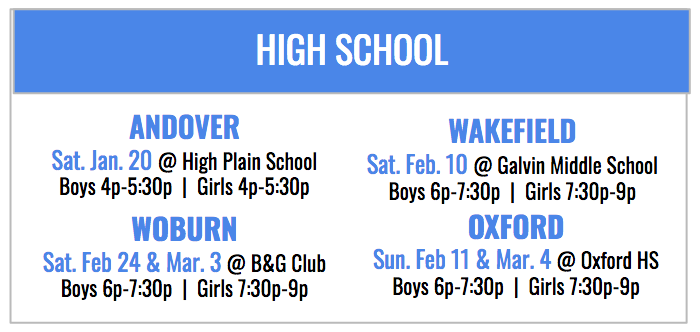 Woburn - Boys & Girls Club, 1 Charles Gardner Ln, Woburn, MA 01801
Andover - High Plain School, 333 High Plain Rd, Andover, MA 01810
Wakefield - Galvin Middle School, 525 Main St, Wakefield, MA 01880
Oxford - Oxford High School, 100 Carbuncle Dr, Oxford, MA 01540
All Players Must Tryout ($25) to be eligible to make a team.
Tryout Fee WAIVED for Returning
Winter Players & Annual VIP Members | Weekend Games, Regional Travel (or National for Summer teams), Weekly Practice & Skills



Players are evaluated by coaches for placement to a competitively appropriate team. EVOLUTION is the only team program in New England offering multiple teams for Boys & Girls at every grade and competitive level (National/College Exposure, DI, II, III & Development). Team programs range from high commitment & national travel to regional/local competitive tournament teams to in-house development teams.
Each Tryout Session consists of 60-90 minutes of competitive drills & controlled scrimmages. Players must attend at least one tryout session (but should attend all) to be considered for a team. Make-up sessions may also be available upon request. Seasonal tryout fee of $25 (non-refundable)applies. Varsity players may NOT compete in scrimmage portion of tryouts until their season is complete.
Following the tryout, we will contact you within 24-48 hours of your tryout session with an invitation to participate or placement on our waiting list. Invitations include request for season commitment & deposit within 24 hours. Unclaimed spots will be released to our waiting list.

Club Team Notes:
Now accepting registrations!